HOW TO BID AGAIN WITHIN 24 HOURS
Priceline only allows you to bid once every 24 hours. This is a tactic used to persuade you into bidding higher as you may not want to wait another day to secure your hotel. By adding this tactic, it puts pressure on you in a way which may force you to bid a little higher than you normally would. If you could bid unlimited, then you could just start at $10 and work your way up. They don't want that and neither do the hotels.
However, there are some ways to bid again sooner and I'm going to let you in on a little secret.  This little secret will relieve some of the pressure Priceline puts on you will put you ahead of the pack as a priceline hotel pro and allow you to make multiple bids.
Using the Zone system to your advantage.
First let's do a quick tutorial. Go to Priceline, choose the "Name your price category" and select Vancouver as your city of choice. This way you can see how Priceline splits up a city into zones.
As you'll see, Vancouver is divided into 9 zones which include a map to the right showing where these zones reside. Check out the map as you can zoom around and see where the boundaries come into play.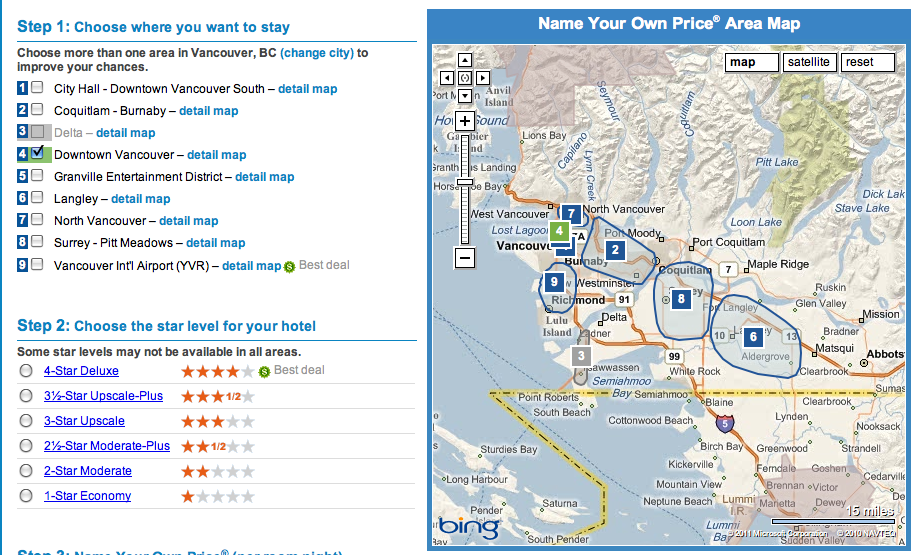 In this example, were going to choose an area in downtown Vancouver. Click on City Hall / Downtown Vancouver South (Zone 1) and look at the options available below. You'll notice that only 2-3 star hotels exist in this area as the others are grayed out. When a star level is grayed out, it means no hotels in that star level exist (participating in Priceline) in that area on Priceline.
Now Let's click on Downtown Vancouver (zone 4). You'll see that all levels of hotels are now available in this area.
Now che both Zone 4 and Zone 1. You'll see that once again, all ratings are available. But we know that the top 2 ratings don't exist in Zone 1 because we already checked it individually.
Before you bid, decide which zones you want to stay in and which star levels you would like. Then grab a piece of paper and list all the zones that do not have the star levels you want (zones with lower quality levels).
Keep this knowledge in mind as it will help with what's next.
Tip 1: Adding unwanted zones
When your bid is not accepted, you have two options. The first one is to wait 24 hours and rebid. The second option is to choose different options and place another bid immediately. This means that you will need to change the zones, the date of stay, or add additional star levels to your bid (but they must be lower than what you previously chose). Typically, these choices are not good for most people since no one wants to stay in a lower quality hotel in a different area or on different dates.
But here is the secret. Let's say we want to stay in Downtown Vancouver (zone 4) is a 3.5 or 4 star hotel. You would set your travel dates, choose these options and make bid. Let's say we bid $60 first. The bid is not accepted. Now go and choose another zone (one that does NOT have 3.5 to 4 star hotels in it) and then place another bid that is a little higher. Let's say $65. Even though there are no 4 star hotels in this new zone, it's still considered a change and therefore you are allowed another bid. You don't have to worry about getting a hotel in the new unwanted zone because you know there are no 4 star hotels in that zone anyways! If the bid is not accepted again, simply choose add a new zone again (that does NOT have your wanted star level and take off the other unwanted zone) and make another higher bid such as $70. If unsuccessful, add all three zones you have tried (2 of them not having your star level of choice) and do it again.
Tip 2: Adding higher-priced zones
Tip 2 may not always work for you. Let's say your goal is to get a budget priced 3-star or less hotel. You will probably notice that each zone has those properties. However, when looking for a hotel in a moderately priced part of town, just add more expensive parts of the city when rebidding. Typically, since the added zones have much higher rates, your higher bid is unlikely to be accepted in that unwanted-more-expensive zone but may increase the likelihood of your wanted zone being accepted.
For Example, in Vancouver, if your wanting to stay in burnaby and your first bid is not accepted, add a more expensive zone such as downtown Vancouver. It's highly unlikely that a hotel in downtown Vancouver will be cheaper that a hotel in Burnaby. Please note though that this strategy has risks involved, such as getting a hotel in an area you didn't want to stay in. Please only do this if your very familiar with the hotels and rates in the different zones of the city.
Tip 3: Swapping IDs
This is quite simple. If your traveling with someone else and you've exhausted all your bidding opportunities, let your traveling partner continue bidding under their name and a different credit card. Now you have twice the amount of chances!
***
Next Page: The Total Cost of a Priceline Bid