Earn enough points for three flights every year
Save money and fly around the world for next to nothing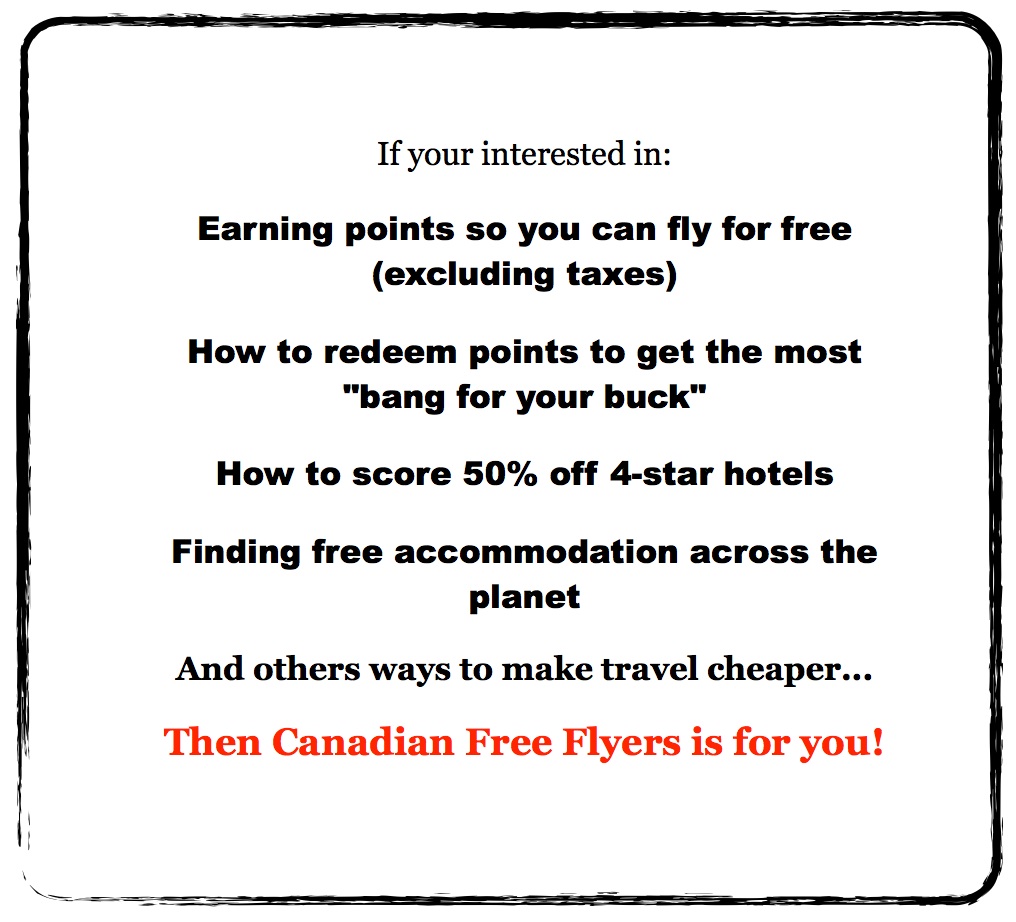 Canadian Free Flyers is an online membership site and newsletter filled with tutorials to get you started right away.
We teach you all about the world of "travel hacking" such as:
Redemption strategies: How to get the most value out of your points. Once you earn them, don't waste them. 




How to turn credit cards into plane tickets: Are you using your credit card for measly rewards or a cash-back program? You'll immediately stop doing this when you realize just one card can send you on two trips right away.




Take advantage of huge promotions: When promotions come out for big bonuses like 15,000+ points, you'll want to take advantage. We'll send you a newsletter so you don't have to worry about missing it.




Sleep in 4-star hotels for 50% off: Learn how to make multiple bids on Priceline, ensuring you get a beautiful hotel for the best possible price.
Plus many other "Canadian travel hacking" opportunities such as glitch fares, round-the-world tickets, discounted hotels and lodging, and other travel hacking secrets.
But that's not all! We send you all the deals in real-time!
The deals go right to your inbox so you don't have to bother scouring the web.
Your busy enough with work, school, and life. Let us do the work for you.
After you sign up, you'll be given instant access to all the tutorials and start receiving our "quick-start" emails right away.
You'll also receive emails every time we find a travel hacking deal. All you need to do is read the emails, follow the prompts, and reap the rewards!
Fly to your dream destination for next to nothing and send us a postcard.

It really is that easy.
The tutorials are designed to teach you everything about travel hacking.
It's updated every time new strategies are found. 
Read them whenever you want.
Jump right into the most important stuff right away and be on a plane in as little as

three months!
Become a Canadian Free Flyer today and take that trip of a lifetime within the year!

We know it can be scary to purchase something so unique and we'll, different. So we've made sure to include an amazing guarantee.
We'll call it the 30 Day/One free flight guarantee. Try it now and if you don't like it for any reason, just let us know within one month and we'll refund you 100%.
If you do like it, we include a second guarantee. If we don't send you enough deals to fly at least once within a year of membership, let us know and we'll refund you as well. (please note: this doesn't mean that you can simply ignore the deals and ask for a refund. You need to be willing to actually follow our advice.)
So really, you have nothing to lose.
We guarantee that your
$97 yearly membership

will send you on at least one trip each year.
Even if your one flight sends you from western Canada to Florida or from Eastern Canada to California, you'll be saving anywhere from $600 to $1000, and that's not including a FREE stopover or any of the hotel deals!
Doesn't that sound like a great investment?

Are you dreaming of walking on a white-sand beach and dunking your toes in warm sea water?
Want to earn a boat-load of travel points and travel around the world paying nothing but the tax?
Of course you do! And we want to make that happen in less than 12 months!

Become a Canadian Travel Hacker Today
Membership is currently available with two different payment plans.
You can either pay yearly and save 35% or you can pay quarterly.
Either way, You'll agree that it's a cheap price to pay once you find yourself flying to Mexico for a hundred bucks or jet-setting over to Europe in business class for 95% cheaper than everyone else.
Welcome to paradise!